Our Platform
Technology Designed for Financial Education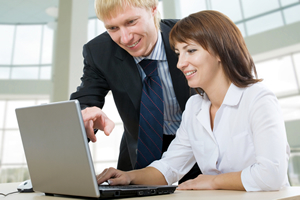 Trusted by hundreds of universities, medical schools, nonprofits, and state-affiliated organizations, our proprietary online learning platform was designed from the ground up for financial education. Now MoneyEdu brings the most advanced version ever to credit unions.
Far from a "one size fits all" service, MoneyEdu can be customized by credit union educators for use with specific member or community populations. Individuals entering the workforce for the first time could be offered a financial basics course that covers the concepts of financial health, budgeting, and credit management. Members who are mid-career professionals could be offered a course that includes saving, investing, and retirement planning. Families facing the challenge of paying for college could be offered a course that makes sense out of the financial aid process.
MoneyEdu is a financial education platform that "just works."
See it in action with a guided demo.
When members join your credit union's MoneyEdu program, they do more than just complete a course - they start to build a personalized destination that's based on their own financial interests and goals. Our platform saves the work of each member between visits, enabling a level of personalization that's a world away from the generic services offered elsewhere.
Customized by Your Team
MoneyEdu is the first financial education platform that can be completely customized by your credit union. Build a course using any of our 90+ content modules and even add your own content, including quiz questions. Our platform automatically tracks each member's progress, manages quizzes, and offers a full report on each member's success.
Customizable courses also make it easy to integrate MoneyEdu's interactive, multimedia learning experience with existing programs and seminars. MoneyEdu can also be adapted to a wide variety of real-world uses, including a resource offered to all members, a way to kick start one-on-one financial counseling sessions, a digital supplement to in-person presentations, and even as a required component of a loan program (learn more about how Generations Federal Credit Union is using MoneyEdu with their first-time car buyer program).
Highlights of the MoneyEdu financial education platform include:
Customizable linear courses on over 90 financial topics important to members of any age, including integrated surveys, assessment, engaging multimedia content, and interactive financial calculators.

Verifiable course completion codes and integrated assessment.

Content customization options allow you to expand the platform's content, including new topics, product information, and employee-only training materials.

Multiple course capabilities enable financial education customized to specific loan programs, outreach efforts, and member populations.

A full-featured CRM option that's ideal for one-to-one financial counseling, including secure site-based messaging and an integrated contact management system.

Personalized tools including custom checklists, content bookmarking, course notebooks, and personalized feedback help members translate education into action.
With MoneyEdu members receive a level of financial education that has simply not been available before. It's never been easier to make a quantified impact on the lives of your members.