Student Resources
A Library of Independent Financial Education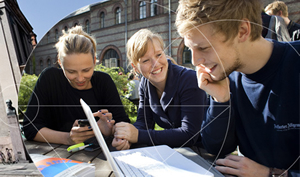 In addition to any courses assigned by their college or university, every Financial Literacy 101 student has full access to our growing library of financial topics, multimedia modules, calculators, exercises, and personalization tools.
You can be confident that you're sending students to a destination that's safe, secure, and absolutely non-commercial. We use industry-standard SSL encryption to protect each student's personal information. Further, Financial Literacy 101 students are never exposed to advertisements or other commercial offers.
---
Financial Topics
From mastering the basics to understanding the financial responsibilities of having a baby, our library covers topics appropriate for both traditional and non-traditional students.
Financial Health
Financial Health for Students - An introduction to the concept of financial health and how financial health can be different for students.
Introduction to Budgeting - A simple introduction to how and why everyone should consider creating a monthly budget.
Advanced Budgeting - Suggestion for tracking actual spending over time, including our Budget-to-Actuals calculator.
Money Saving Ideas - Looking for ideas for ways to save money now? Almost everyone can find a way to save using at least one of these tips.
Financial Services
Choosing a Bank - What to look for when choosing a financial services institution, including the benefits of credit unions.
Managing Accounts - Account management strategies including online bill payment and data protection.
Checking and Savings Accounts - Checking and savings account strategies designed to minimize fees.
Managing Credit
Credit Reports and Scores - A look at the pervasiveness of credit in our culture and the function of credit reports and scores.
Credit vs. Debit Cards - The pros and cons of each type of card with suggestions for when to use each for maximum consumer protection.
Students and Credit Cards - With limited or non-existent income, students face special challenges with credit card debt.
Building Credit - Understanding the decisions and behaviors that can lead to improved credit scores.
Credit Card Act of 2009 - A clear explanation of how the new regulations work to protect card holders.
Reading Your Credit Report - A line-by-line description of what to expect and look for when viewing a credit report.
Identity Theft
Identity Theft - Understanding how identity theft happens and how to prevent it.
Dealing with ID Theft - What to do if you are a victim of identity theft.
Financial Trouble
Financial Trouble - Spotting the warning signs of excessive debt.
Dealing with Financial Trouble - An introduction to the steps you can take to begin dealing with financial problems.
Creating a Debt Reduction Plan - Whether done independently or with a credit counselor, creating a debt reduction plan is an important first step for those with financial trouble.
Credit Counseling - The role of credit counseling organizations and how a debt management plan works to restore credit over time.
Choosing a Credit Counselor - The best way to find a good credit counselor is knowing what questions to ask. Here's a comprehensive list of questions.
Avoiding Credit Repair Scams - How to spot a credit repair scam.
Debt Collection and Your Rights - Understanding legal and illegal debt collection practices. How to report companies that ignore the law.
Debt Collection and Legal Actions - What to do if you are sued over debt.
Understanding Bankruptcy - The types of bankruptcy and why it should be used only as a last resort.
Avoiding Alternative Financial Services - Understanding why payday loans, check cashing services, and similar services are bad deals for consumers.
Financial Planning
Financial Planning Introduction - Learning the "how" and "why" of short, medium, and long-term financial planning.
Creating a Will - A will is the cornerstone of the legal framework of an estate plan, and everyone should have one.
Powers of Attorney - Everyone faces the possibility of temporary or permanent incapacitation. Make sure your wishes are followed.
Estate Planning - An overview of wills, trusts, and other end of life issues.
Getting Married: Talking About Money - The financial considerations of getting married. How to talk about money with your spouse.
Getting Married: Planning for the Unexpected - Planning for unexpected events, including accidents, death, and even the possibility of divorce, are all part of a responsible marriage.
Financial Aid
Financial Aid Introduction - An introduction to the financial aid materials available at Financial Literacy 101.
Types of Financial Aid - The main types of financial aid are education loans, grants and scholarships, work-study, and service programs.
Creating an Aid Strategy - Considerations when planning to pay from school, including school choice, employment options, accounting strategies, and the importance of borrowing wisely.
Understanding Financial Need - How financial need is officially determined.
Independent Student Status - Understanding your financial aid dependency status, including a discussion of what to do if the parents of dependent students refuse to help them pay for college.
Applying for Aid - The aid application process, including descriptions of the FAFSA and Profile forms.
Understanding Education Loans - A description of the main types of student loans, including government loans, consolidation loans, and private loans.
Choosing the Right Loan - Questions every student should be able to answer before taking on a student loan.
Selecting a Private Loan Lender - When federal loans are not enough, private lenders such as banks, credit unions, and nonprofit lenders can help to fill the gap.
The Master Promissory Note - An introduction to the agreement that specifies your rights and responsibilities when accepting a student loan.
Repaying College Debt - Common repayment plans are outlined, as well as instructions for finding your loans and the consequences of non-payment.
Borrowing Wisely - Making smart choices about student loans, including a description of the impact of loan capitalization.
Dealing with Not Enough Financial Aid - Why some students find themselves with too little aid and what can be done to make ends meet.
Having a Baby
Having a Baby Introduction - An overview of the financial considerations of bringing a baby into your life.
Babies and Budgets - How to get your finances in shape before a baby arrives, including a budget review, paying down debt, and creating an emergency fund.
Paying for the Baby Years - The non-childcare costs you can expect when having a baby, from cribs to health insurance.
Childcare Choices - An overview of different childcare choices and the financial implications of each.
Children and Taxes - A review of federal tax benefits for families with children.
Managing Risks - Life is filled with unexpected events. Learn how to ensure the financial security of your child in the worst-case scenario.
Growing Up: Childhood and Beyond - A review of the tax benefits that can help you manage the expenses incurred with children.
Insurance
Insurance Introduction - How insurance plays an important role in our financial lives.
Auto Insurance - Types of insurance, factors influencing cost, and choosing a policy that's right for your situation.
Life Insurance - Who needs life insurance, types of policies, and how to determine coverage.
Renter's Insurance - Understanding the benefits (and potential pitfalls) of this type of inexpensive insurance.
Students and Health Insurance - Understanding the health insurance choices facing students, including non-traditional and international students.
Disability Insurance - The benefits and costs of these often complex policies.
Buying a Car
Buying a Car Introduction - An introduction to the car buying process.
Choosing a Make and Model - A look at four important factors to consider when choosing a car: fuel consumption, insurance rates, reliability, and depreciation.
The Total Cost of Ownership - Understanding the many costs associated with owning a car - from financing cost to taxes.
Buy or Lease - The pros and cons of leasing.
Financing a Car Purchase - How a loan affects the total cost of buying a car.
Evaluating a Used Car - How to "do your homework" before buying a car.
Introduction to Negotiation - Effective negotiation could potentially save you thousands on your next car purchase.
Setting a Target Price - How to set a realistic target price for both new and used vehicles.
Negotiating Price - Car dealers negotiate for a living - you don't. Know what to expect when negotiating the best deal.
Avoiding Surprises - Think the negotiating is finished when you agree on a price? Here's how to negotiate dealer extras and extended warranty pitches.
Common Mistakes - Twelve common mistakes to keep in mind when shopping for a car.
Housing Issues
Buying a Home - Pros and cons of buying a home, including a comparison with renting.
Understanding Mortgages - Understanding the parts of a mortgage and common mortgage loan options.
Buying vs. Renting a Home - How to decide if the time may be right for you to buy.
Renting an Apartment - Your rights and responsibilities when signing a rental agreement.
Roommates and Money - Simple strategies for managing your financial relationship with roommates.
Saving and Investing
Saving and Investing - The difference between investing and saving, and how to tell what's the best option for your needs.
Types of Investments - The pros and cons of stocks, bonds, and cash. The concept of asset allocation is explained.
Investment Accounts - The types of accounts available to investors, including both taxable and tax advantaged accounts.
Saving for Retirement - Reasons why saving for retirement is more important than ever, plus a peak at how account fees impact investment performance over time.
Retirement Savings Strategies - How to develop a comprehensive retirement savings strategy.
Retirement Savings Tips - A few simple things to keep in mind when starting a retirement savings plan.
Retirement Savings Accounts - An overview of the major retirement accounts, include Individual Retirement Accounts, Simplified Employee Pensions, and 401(k) plans.
Individual Development Accounts - Understanding the benefits of IDAs, how to qualify, and where to find a program.
Calculators and Exercises
Our content library is just the first step - Financial Literacy 101 then helps students make sense of their education with interactive calculators.
Monthly Budget Calculator - Perhaps unlike any budget calculator you've ever seen before, ours offers personalized money-saving suggestions based on your projected spending behaviors.

Budget-to-Actuals Calculator - Compare actual spending with a monthly budget, including line by line analysis and a "big picture" summary. Track progress over time and even export figures to a spreadsheet.

Personal Goals Journal - There's no better way to achieve financial goals than to write them down. Students use this exercise to set short, medium, and long-term financial goals. Goals are saved and can be adjusted as needed over time.
Personalized Feedback - Sensible, objective feedback and suggestions based on spending behavior, credit card use, and financial stress levels.
Paying for College - Find any "aid gap" that may exist after earnings, loans, and expenses are calculated for each semester or academic year.
Identity Theft Assessment - Personalized feedback based on common (but often overlooked) behaviors that may increase the risk of identity theft risk.

Real World Calculator - For those just entering the work force after college, this tool shows entry-level income and budget scenarios for a variety of popular college majors based on national average salary data.
Credit Card Repayment - Create a strategy for paying off credit card debt based on either planned payments or the desired months until the debt is paid.

Chronic Debt Assessment - This assessment exercise takes a look at over a dozen factors associated with compulsive spending behavior.
Auto Financing Calculator - Explore monthly payment scenarios based on amount financed, interest rate, and the term of the loan.
Financial Personality - Discover "hidden" attitudes toward money, including spending priorities, with this innovative tool.
Personalization Tools
With dozens of topics, calculators, and exercises, Financial Literacy 101's personalization tools build a highly relevant student experience.
"My Money" Homepage - Organizes the educational experience of each student and offers easy access to detailed textual resources, printable downloads, financial calculators, and other resources that students may use on an ongoing basis.
Saving Content - Students can save relevant content to their home page for easy reference.
Notes - Students can write notes about any topic in the MoneyEdu content library. Notes are placed in the appropriate sections and assembled into one Master Notebook.
Course Tracking and Review - Progress made on each course is stored in each member's account. Students can easily review any topic covered and print their course completion certificate.
Content Sharing - When enabled by their school, students can choose to share their monthly budget and other interactive exercises with their school representatives for one-to-one counseling sessions.
Integrated Communication Tools - When content sharing is enabled, students and a school representative have the option of secure, site-based messaging.
Online Checklists - Students can add "to do" items to their interactive checklist and manage their tasks over time. Select content topics also have built-in checklist suggestions.

Course Completion Certificates - Each course completed by a student entitles them to a completion certificate. Each certificate includes a verifiable course completion code.