Employee Education
Serving Members by Example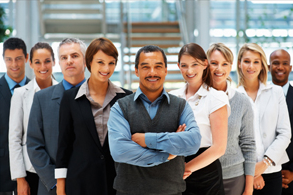 MoneyEdu can be a powerful tool for building a culture of financial responsibility with both members and employees. By making sure each employee has the financial skills required to manage their own financial challenges (and realize when they need help), they'll be better able to understand and serve the needs of members.
Any employee in your credit union could be asked a financial question at any time. Especially for larger credit unions, it can be tough to know if the same financial question would be answered in the same way by each employee. Credit union employees who complete courses on MoneyEdu build personal profiles and complete the same exercises as members. When employees can share what was helpful for them - not as employees, but as individuals - the true impact of financial education is clear.
MoneyEdu training is not intended to turn employees into financial advisors, but to make them better at what they do every day. A solid understanding of the basics is a great step in transforming employees from "order takers" and into "customer advocates" that can add value to any member interaction - and better identify when particular credit union services might be appropriate. Employees will also gain a deeper understanding of the value of certain credit union products and services, especially if offered in conjunction with custom content added by your credit union.
Here are a few ways MoneyEdu can be used with your employees:
New Employee Onboarding - When new employees join your credit union, MoneyEdu can be used as a tool to teach basic financial concepts. Like all MoneyEdu courses, complete participation data, including grades and missed quiz questions, will be available to your human resources department. Any areas of confusion can be quickly addressed with in-person follow ups.

Lunch and Learns - Ask employees to complete a specific course or financial exercise before a company lunch. A financial education specialist can then facilitate a review of the assignment. Finish up with a question and answer session and be sure to let us know if anyone sees the need for additional resources!

Product and Policy Training - Using the custom content features of MoneyEdu, your credit union can add employee-only content to the system. This material can be added to existing MoneyEdu content or serve as stand-alone courses, complete with quiz questions and all the tracking features of any MoneyEdu course.
These ideas represent just a few of the ways MoneyEdu can help you reach your financial education goals with employees. We encourage each credit union to use MoneyEdu creatively to build a collaborative relationship between employees and members.