How We're Different
Effective Education Through Personalized Technology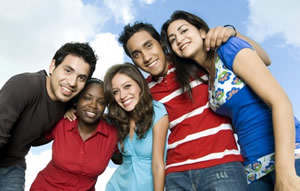 Financial Literacy 101 moves beyond the one-size-fits-all approach of most financial literacy education programs, offering a personalized learning experience with best-in-class engagement metrics. Financial Literacy 101 students spend, on average, three times longer on the site than the next leading online financial education program. And with over one million assignments completed on our platform, students are nearly unanimous in their support of our approach - over 93 percent of students who completed our Financial Basics course agree it was a good experience and nearly five out of six students would recommend the course to a friend.
We're proud of the level of engagement and overall satisfaction reported by Financial Literacy 101 students, but these measures are only tangential to our goal of promoting healthy long-term financial behaviors. Anyone can learn facts, but how do we transform that knowledge into action? In a world where financial mistakes can bring penalties including reduced job opportunities and unmanageable debt levels, the stakes couldn't be higher. Our core belief is that effective education requires more than facts alone - students need to place those facts in the context of their own financial attitudes and behaviors. Otherwise, even the best curriculum is just more "noise" in the life of a busy student.
---
If a significant percentage of students taking our Financial Basics course don't have at least one "aha moment," then we haven't done our job.
---
There are four pillars to our learning model:
1) Personalized Feedback
If one thing is clear from the thousands of students we survey each month, it's that many students simply don't know whether or not their financial expectations are accurate. For example, the average credit card debt of students graduating from a four-year college is around $4,000 (up to one in three students graduate with $10,000 or more), yet 90 percent of first-year students at four-year colleges expect to graduate with less than $500 in credit card debt. A smaller, but still significant, percentage of students also have overly optimistic expectations about likely starting salaries based on their field of study. Still other students, especially those from economically disadvantaged backgrounds, may be so worried about debt that they do everything they can to avoid it - including working so many hours that their academic performance suffers.
Financial expectations are essentially predictions about the future that we use to inform our decisions, especially for long-term investments like a home or an education. When buying a home, we make decisions based on predictions ranging from our ability to afford the mortgage payment to the likelihood that we'll remain employed. Students make financial decisions based on predictions about their futures as well, but there's an important difference - mortgage payments are based on current salary while student debt payments are based on expected salary. From a student's point of view, "they" will not be repaying the debt. Rather, their future self, empowered with the earning potential of a college degree, will be the one picking up the tab.
The first step of our learning model is to provide students with non-judgmental feedback on their financial knowledge, expectations, attitudes, and behaviors. From likely debt levels to credit card habits to self-reported financial stress, many students tell us that they simply never considered their financial attitudes and expectations before. Along with frequent instant results from quiz questions and interactive exercises, insightful personalized feedback makes Financial Literacy 101 a uniquely relevant experience for virtually all participants.
2) Content Customization
Expectancy challenges and personalized feedback are excellent tools for making sometimes abstract financial concepts highly personal, but the content itself also needs to be relevant to a variety of diverse student populations. Financial Literacy 101's administrative course customization capabilities and dynamic content customization mean that students' learning experiences are based on their actual needs, not the stereotypical needs of the generic "college student."
Course customization has proven to be one of the most popular features of Financial Literacy 101. Hundreds of courses have been customized by program administrators, enabling Financial Literacy 101 to closely match the content needs of each student. All 90+ content modules, complete with integrated assessment and exercises, can be combined into custom courses designed by those who know students best - the administrators who serve them every day. Course customization also plays an important role in supporting the implementation plan of each institution, enabling courses that are intended as a single intervention, an ongoing multi-year program, or as an interactive supplement to an "in the classroom" program.
With one-third of Decision Partners' direct university customers being community colleges, it became clear long ago that we needed to not only give administrators the ability to customize content, we also needed to be able to customize content dynamically to meet the needs of non-traditional students. Based primarily on self-reported financial aid status, Financial Literacy 101 dynamically customizes certain exercises, surveys, and content modules, ensuring that a 30 year-old community college student is not asked questions or offered content that was designed for students who are leaving home for the first time. While the vast majority of Financial Literacy 101 content is suitable for any college student, how topics are "framed" has a major impact on how relevant topics are perceived for both traditional and non-traditional students.
3) Assessment
From providing student-specific data on courses completed, grades, and missed quiz questions to uncovering the aggregate financial attitudes and behaviors of an entire campus, assessment plays a major role in the success of Financial Literacy 101's educational mission.
As more institutions require financial education for certain populations, the ability to set student participation requirements and to quickly generate student reports data has never been more important. Financial Literacy 101 administrators are free to set minimum grade requirements across all courses offered to their students. Student specific reports, including name, course(s) completed, first attempt grade, retake grade, and a variety of other factors can be created with just a few clicks. Students who have not met institutional requirements can be easily identified and contacted. Many institutions use exported reports in conjunction with student management systems for easy tracking of thousands of students per year.
Financial Literacy 101 also includes powerful aggregate survey tools for insight into large groups of students, including comparisons of specific populations. These reports can be generated on a per-question basis or as a multi-page PDF report. By identifying potential misconceptions among campus groups, further education can be targeted to specific educational needs.
4) Ongoing Support and Education
Financial Literacy 101 can be much more than a one-time intervention. As students complete their assignments, their work - from monthly budgets to financial goals - are saved by our system. Students can return to their Financial Literacy 101 homepage as often as needed, exploring all of the content and resources we offer - not just content from their initial assignment.
Financial Literacy 101 also makes multi-year financial education a reality. Administrators can assign multiple courses throughout students' experiences with your organization, from first-year orientation through graduation. We offer course templates designed for multi-year education that can be customized based on the learning needs of your students and your implementation goals.
For organizations with the ability to offer personalized counseling, Financial Literacy 101 also offers a complete suite of online communication, content sharing, and CRM tools that are designed to make personalized counseling sessions more efficient.
Like any other type of behavior, financial decision-making is based on a variety of factors. While a single intervention has led to significant self-reported learning gains among students and short-term behavior changes in other contexts, we urge organizations to make financial literacy education a comprehensive, multi-year program. By building financial education into key points of contact with students, from on-boarding to financial aid disbursement to exit counseling, the importance of responsible financial decision-making is reinforced over time.
Controlling spending, managing debt, and recognizing the signs of financial trouble are not especially difficult concepts, but just because something is simple does not mean it's easy. Financial Literacy 101 is intended to be an ongoing resource for students during their college careers - a trusted, non-commercial source of financial education that puts students' needs first.